Governor begins five-day US visit
A top official of coal-rich Shanxi province has started a five-day visit to the western US states of Idaho and Wyoming in an effort to boost exchanges in economic transformation, tourism and education.
Shanxi Governor Li Xiaopeng is heading a government delegation from the province to visit businesses, scientific institutions and universities in the two states, according to Shanxi Daily, a major government-run newspaper.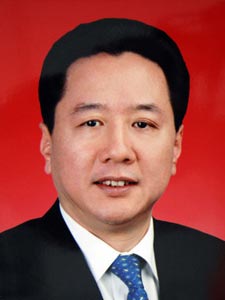 Li Xiaopeng, governor of Shanxi province
The visit was initiated by Idaho Governor Butch Otter and Wyoming Governor Matt Mead.
During the visit, the delegation will brief the US authorities about policies and measures that the province has taken to deepen economic reform, widen opening-up and boost innovation.
The delegation said it wishes to learn from the two states about how to transform the economy of a resource-rich area, as Shanxi is itself determined to build a comprehensive energy base and launch a transformative pilot project with its own resource-oriented economy.
In Wyoming, the delegation will celebrate the 30th anniversary of the establishment of the two regions' friendly relations and plans to step up exchanges in tourism and education.
Li will witness the signing of a variety of agreements between the two sides, some of which are in the tourism and education sectors.
Li, son of former premier Li Peng, was elected governor of the province in January 2013 at the first session of the 12th provincial People's Congress, the local legislature.
He was appointed acting governor of Shanxi in December 2012, replacing former governor Wang Jun.
Before that, Li was general manager of China Huaneng Group, the country's largest power generator, before his appointment as Shanxi vice-governor in June 2008.
Li is one of 171 alternate members of the 18th Central Committee of the Communist Party of China, the political body that comprises the top Party leaders.
Shanxi province has been synonymous with coal and is the country's top coal producer. It's a powerhouse whose abundant reserves of fossil fuels have kept China in operation for generations.
The province has been in the media spotlight since seven of its top leaders, some at the ministerial level, were placed under investigation on corruption charges last year.
The past year has seen government shake-ups across the province. More than 15,000 Party officials - 45 of them at the bureau level - have been punished for "violations of the law and party discipline", a phrase often used as shorthand for corruption and graft.